Paraná in figures
Paraná is one of 26 Brazilian states and is located in the country's southern region. It has borders with the states of São Paulo, Santa Catarina, and Mato Grosso do Sul; with Argentina and Paraguay; and the Atlantic Ocean. It occupies an area of 199,880 km2.

Its capital city is Curitiba, and other important cities are Londrina, Maringá, Foz do Iguaçu, Ponta Grossa, Cascavel, Guarapuava, and Paranaguá. In the Curitiba Metropolitan Area, owing to their economic importance, the two major municipalities are São José dos Pinhais and Araucária.

The state's climate varies according to the region – humid tropical to the north and humid temperate in the south.

The population is comprised of various ethnic groups: Polish, Italian, German, Ukrainian, Dutch, Spanish, Japanese, and Portuguese, and by migrants coming mostly from the states of Rio Grande do Sul, Santa Catarina, São Paulo, and Minas Gerais.




1. GENERAL DATA
Capital City

Curitiba

Area (km2)
199,880
Population Density (2015) (Inh./km2)
55.85
Number of Municipalities
399
Paraná's Population (2010)
10,444,526
Brazil's Population (2010)
190,755,799
Share within Brazilian Population (%)
5.5
Urban Population (2010) (%)
85.3
HDI (2010)
0.749
SOURCES: IPARDES, IBGE, UNDP
MOST POPULATED CITIES - 2010
MUNICIPALITY
POPULATION
Curitiba
1,751,907
Londrina
506,701
Maringá
357,077
Ponta Grossa
311,611
Cascavel
286.205
São José dos Pinhais
264.210
Foz do Iguaçu
256.088
Colombo
212,967
Guarapuava
167,328
Paranaguá
140,469
Apucarana
120,919
Toledo
119.313
Araucária
119.123
Pinhais
117,008
Campo Largo
112,377
SOURCE: IBGE - Census 2010



2. GROSS DOMESTIC PRODUCT (GDP)
Paraná's economy is the fourth largest in the country. Nowadays the state is responsible for 6.3% of the national GDP. In 2013, the registered per capita income was 30.3 thousand reais, above the brazilian national ratio (26.4 thousand reais).


GROSS DOMESTIC PRODUCT - 2010-2014
YEAR
PARANÁ
BRAZIL
SHARE
Current Prices
(million R$)
Current Prices
(million R$)
PARANÁ/BRAZIL
(%)
2010
225,211
3,885.847
5.80
2011
256,974
4,373.658
5.88
2012
285,206
4,805.913
5.93
2013

332,837
5,316.455

6.26
2014
(1)358,544
(2)5,687.308
6.30
SOURCES: IBGE, IPARDES
(1) Ipardes estimative.
(2) Calculated by IBGE through quarterly national accounts.
Gross Value Added Composition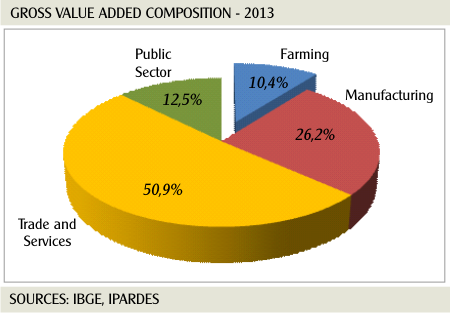 Larger Municipal Economies
The municipalities comprising the Curitiba Metropolitan Area (CMA) rank high among the state's strongest economies. Due to their dynamic industries and services, Curitiba and São José dos Pinhais are the municipalities with the highest GDP in Paraná. Outside the CMA, Londrina, Maringá and Ponta Grossa stand out for their striking activity in the agribusiness and services, while Foz do Iguaçu is a reference in tourism and electric power production activities. On the coast, Paranaguá stands out for activities linked to the port.


BIGGEST ECONOMIES - PARANÁ - 2013
MUNICIPALITY
GDP
(R$ thousand)
SHARE
(%)
Curitiba
79.383.343
23.85
São José dos Pinhais
25.238.577
7.58
Londrina
15.930.758
4.79
Maringá
13.733.657
4.13
Ponta Grossa
10.280.846
3.09
Foz do Iguaçu
9.877.010
2.97
Cascavel
8.403.195
2.52
Araucária
7.360.425
2.21
Paranaguá
6.160.076
1.85
Pinhais
4.947.752
1.49
Other municipalities
151.521.528
45.52
PARANÁ
332.837.167
100.00
SOURCES: IBGE, IPARDES
3. ECONOMIC SECTORS
Farming
Paraná is the largest national producer of grains, with a diversified agricultural agenda. The use of advanced agricultural techniques enhances the state's productivity. Soybean, corn, wheat, and sugarcane stand out in the productive structure, with strong improvement in other activities, such as fruit production.

Poultry meat production is the major activity in the livestock industry, accounting for 29.2% of the country's total output. In the beef and pigmeat segments, the state's market share reaches 4.2% and 19.1%, respectively .


MAIN FARMING PRODUCTS - PARANÁ - 2014
PRODUCT

QUANTITY
(t)

SHARE
PARANÁ/BRAZIL (%)

Sugar cane

47,947.529
6.50

Corn


15,823.241
19.81

Soybean


14,913.173
17.19
Cassava
3,958.798
17.03
Wheat
3,816.201
60.94

Potato


850,959
23.06

SOURCE: IBGE


MEAT PRODUCTION - PARANÁ - 2014
ANIMAL

TOTAL CARCASS
WEIGHT (t)

SHARE
PARANÁ/BRAZIL (%)

Poultry

3,651.564

29.18

Pigmeat
611.183

19.14

Beef

336.996


4.18

SOURCE: IBGE



Industry
Industrial transformation in Paraná grossed R$ 78 billion in 2013. The state's industrial sector is particularly strong in the segments of food, automotive vehicles and oil processing. These sectors account for approximately 55.4% of the state's total industrial value added output.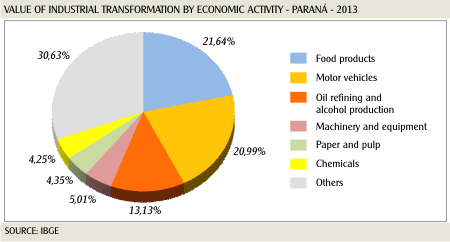 Services
Paraná's gross-value added in the services sector was estimated at R$ 146.070 billion in 2013, with a strong participation of commercial and real estate activities.
4. FOREIGN TRADE
In 2015, Paraná accounted for 7.8% of the US$ 191 billion in Brazilian exports and ranked 5th among the brazilian exporting states. As for imports, China, Argentina, United States and Germany were the major foreign suppliers, responsible for US$ 5.4 billion in products sold to Paraná state.